1963
Robert Gawlak


Richard Suto
1967
Richard Cuviello


Thomas Reed
1968
Robert Brown


Stanley Figiel
Curtis Hodson
Michael Lindstrom
Edward Reed
1970
Charles Haffner


Dennis Gawlak
1978
Joseph Caputo


Michael Dembski
1980
Anthony A. Caputo


Richard Jedynak
1983
Daniel Bozek


Nelson Locher
Steven Podkulski
1985
Carol Covert


Warren Ristine
1992
Jeffery Roth


Rosemary Donahue
Ronald Klimowicz
1999
John Carlin Sr.
Robert Pruski
Jamie-Lynn Winkler
2001
Daniel Anzalone


John Makin
2011
Arthur Boskat


John Reardon
2013
Sarah Doherty
Jeret B. Wedzina
Ashley Reardon
2014
Tom Gullickson


Brian Klute
Ryan Anzalone
2016
Nicholas Raczka


Jacob Reed
Amanda Bozek
2017
Andy Incorvaia


Ashley Incorvaia
David Incorvaia
Rutger Wagner
Andrew Ehlers
Austin Wittmer
Katrina Wegner
2018
Isabella Bogucki


Mico KhanLee
Members With Restrictions
Our "Members With Restrictions" division is open to Boys & Girls from ages 16-18 who are interested in learning about the basics of firefighting, first aid and rescue.
To join, contact our "Members With Restrictions" advisor
at (716) 825-6144
• Help your community
• Earn community service hours
• Learn to help other people on a voluntary basis
• Make new friends
• Learn new skills for life
• Do things you never thought possible
• Have fun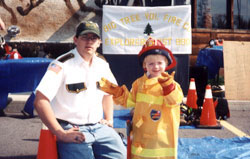 John Makin poses with a "Jr. Firefighter" at one
of the "Members with Restrictions" fire prevention puppet shows.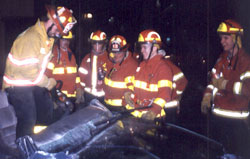 Mike Reed demonstrates auto extrication techniques to "Members With Restrictions"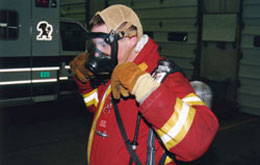 A Big Tree Member With Restrictions practices donning SCBA at a recent training.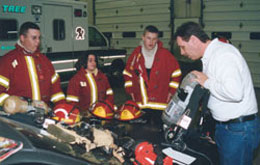 Big Tree Firefighter John Carlin Sr. demonstrates the proper use of SCBA to Big Tree Members With Restrictions.
© 2023 Big Tree Volunteer Fire Company
Hamburg, NY
No information, photos, files, or other material found on this website may be copied or used without the express written permission of the Big Tree Volunteer Fire Company