Big Tree VFC History ~ "Our Roots"
During the summer of 1936, places like the Albrecht Brothers Gasoline Station, Schoen's Grill, and Joseph Kryszak's garage were filled with men discussing the topic of a fire company for the Big Tree/Highland Acres area. On November 2nd, 1936 a consolidated meeting of these groups of men was held at Schoen's Grill, where it was decided that working together would be better for the achievement of their goal. William Koenig was elected as temporary chairman and Ira Milks took the job of temporary secretary. Plans were made to hold their next meeting in one week at the same location. Circulars were made up and distributed throughout the community inviting the male populace to the meeting.
December 1936 saw this organization become known officially as the "Big Tree Volunteer Firemen's Association". We elected Alois Schoen as Treasurer, making him the first elected officer of the new organization. In early 1937, William Koenig and Ira Milks were officially elected as President and Secretary, respectively. Joseph Kryszak was elected as our first Chief.
To the best of our knowledge, the men whose names appear below were members of the Company when the Charter was signed on March 10th, 1937:
William Koenig
Alois Schoen
Helmer Paulson
Joseph Corteau
Vincent Walter
Glenn Tanner
Dallas Shanks
Charles Metzger
Fred Mimken
Ed Harrison
Joseph Kryszak
Charles Albrecht
Ira Milks
Arnold Milks
J. E. Zuppinger
Homer House
Henry Kuzniewicz
Arthus Hansgen
Jack Albrecht
Amicare Paolini
"Where the 'Big Tree' Grows"
The old Big Tree Community Hall was purchased from the Forbush Lumber Company to serve as our first firehall. The amount of $366.93 was the amount of liens against the building. The members themselves built the garage to house our apparatus. This building served our needs until 1947 when our current Station 1 was built on South Park Avenue. Again showing their dedication to their community, the members built most of this station.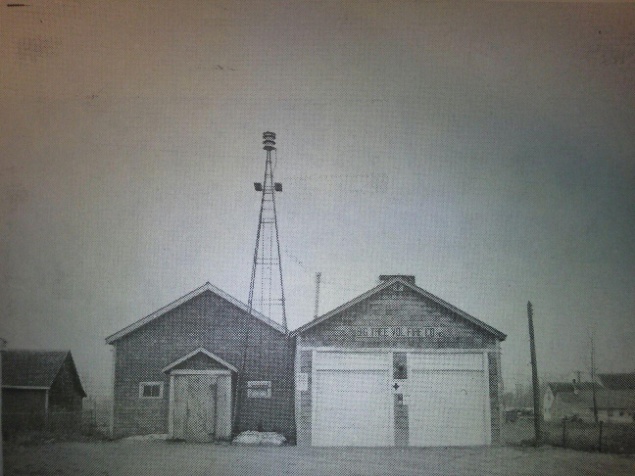 Constantly looking to better our service to our community, the men made several additions to the station.  In 1962, under Chairman Francis X. Doherty, office space for the Chief and President, a meeting room, an additional apparatus bay, and record storage areas were added. In 1979 a renovation was completed to make the building more energy efficient. Again in the 1990s an addition was made for energy savings. This Station continues to serve us as our Headquarters. In the late 1960s it was decided that we should add a second station due to the size of our district and increasing number of calls. 
We purchased an old gas station at the corner of South Park Avenue and Bayview Road. We renovated it to meet our needs as a substation. In the late 1980s we deemed it necessary for a bigger substation as our district and call numbers continued to grow. A new plot of land was purchased next to Frontier High School on Bayview Road. This new 4 bay station was state of the art with a training room, weight room, and even a day room for our members to use. Station #2 currently houses our two engines, our rescue, and our ambulance.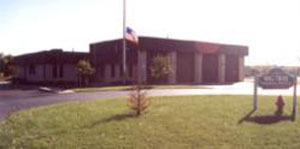 Recently we have purchased property at the corner of Big Tree Rd. and Bristol Rd. This area is very close to the exact center of our current district.  Our hope is to consolidate both of our current stations into one central station.  This is an effort to provide a more efficient and rapid response to our community when needed as well as to have a state of the art and energy efficient station so as to be fiscally responsible to our district members.  We hope to break ground soon.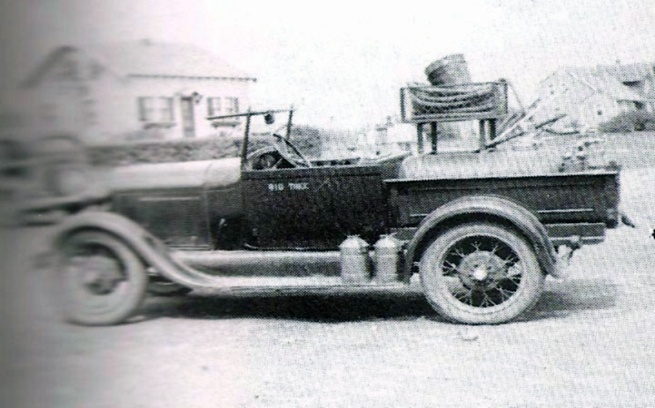 Our first piece of apparatus was a chemical truck on loan to us from the Caseler Manufacturing Company of Buffalo. (Caseler Mfg. was started by a few ex-employees of Buffalo Fire Appliance. In 1941 Caseler would become known as Young Fire Equipment). Later in 1937, we purchased a used pumper from the Wellsville Fire Department. This pumper remained in service until 1957 when a new 750 gpm pumper was purchased for about $19,000 from Young Fire Equipment. It should be noted that the cost did not include the chasis that was donated by the Ford Motor Company.
An exact year cannot be pinpointed, but somewhere early on a Dodge tanker was purchased by the Town of Hamburg for use by our company. In 1964 a new 750 gpm pumper/tanker was obtained to replace that unit. The pumper/tanker was purchased from the American LaFrance Equipment Corp. for about $25,000. Another new pumper was purchased for about $38,000 in 1970, a 1000 gpm unit from the Young Equipment Corp. In an effort to maintain the highest level of quality fire protection for our residents, another 1000 gpm Young pumper was purchased in 1976 for a cost of about $75,000.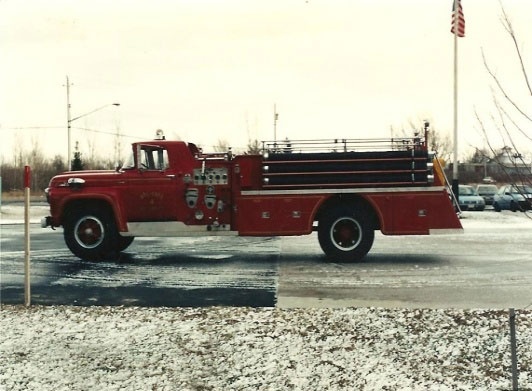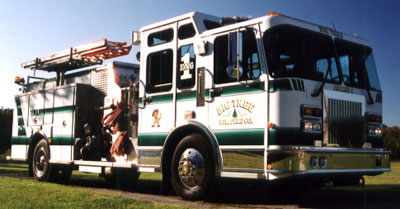 In 1995, due to manpower shortages, it was decided to replace two of our pumpers with one 1250 gpm pumper from R.D. Murray. In 1999 we decided that a new R.D. Murray 1250 gpm pumper would replace the two remaining pumpers. The two new R.D. Murray pumpers currently serve as our Engine #1 and Engine #2. Although fire protection has always been our #1 priority, it became apparent that over the years people needed additional types of assistance. Car accidents required specialized tools to free victims trapped in the crumpled metal, scenes needed to lit up at night to make it safer for our firefighters, and more equipment needed to be carried for more scenarios that our firefighters were called out to deal with.
Our earliest piece of specialeized equipment was a light truck converted by our members from our old Buick ambulance. Sometime in the early 70s we purchased a used rescue truck from the Brighton Fire Company in Tonawanda. This unit served until 1979 when a combination rescue/mini pumper was purchased from the Pierce Manufacturing Company. For a while our current Engine #2 also served in the capacity of a rescue unit. In 2003 we added to our fleet a state-of-art heavy rescue unit. This unit features a command desk, hydraulic rescue tools, plasma cutter, and surface ice rescue equipment in addition to a full compliment of traditional fire and rescue tools.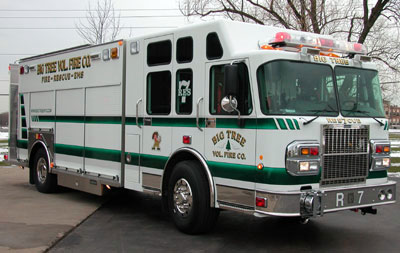 In 1941, we became the second volunteer fire company in New York State to furnish free ambulance service to the citizens of our community. Our first ambulance was a truck purchased for about $225. The members put about $450 into converting the truck to a full regulation ambulance by themselves. Subsequent ambulances were much more substantial including a 1955 Pontiac Ambulance. In 1962 we added our first "new" rig, a Superior Pontiac, which remained in service until 1972 when it was replaced by another new Superior Pontiac. In 1982 an ambulance made by the Braun Company replaced our Pontiac.
In 1989 the next new ambulance, another Braun, was placed in service. In 1993 we added a Paramedic Level Flycar which still serves our district today. 1999 saw a brand new Lifeline ambulance grace the streets of our district. Currently we operate a 2010 Road Rescue. In the early days our ambulance responded to all areas of the Town of Hamburg as well as to neighboring towns to aid the sick and injured. Some of our records indicate that "runs" were made as far as Warsaw and Jamestown to assist the State Police at accident scenes. As other fire companies began to obtain their own ambulances, it gave some relief to our First Aid Squad. Throughout the years our ambulance has been called upon to assist at incidents statewide.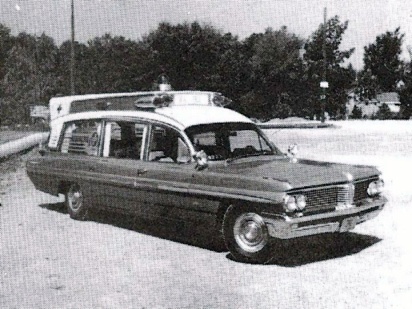 © 2023 Big Tree Volunteer Fire Company
Hamburg, NY
No information, photos, files, or other material found on this website may be copied or used without the express written permission of the Big Tree Volunteer Fire Company